Why you can't store valuables in a storage unit
Get Your Free Moving Estimate
Securing your valuables in Austin, TX
Many people believe that they can store valuables in a storage unit for safekeeping. However, most self-storage facilities will not permit valuable items to be stored in their units because of the risk of damage or theft.
Why you can't store valuables in a storage in Austin, TX
Risk of theft and damage in self storage facilities
Even with 24/7 surveillance cameras, a storage unit provider in Austin, TX would want to lessen the risk of making it tempting for thieves to break into the facility and make off with the valuables inside the units. If a diamond-studded watch or pearl necklace worth thousands of dollars were allowed for storing, the entire facility would likely be filled with other expensive items. This is why most storage facilities do not allow storage customers to place their valuables inside. It's too risky for them and everyone else.
Humidity
Even though climate-controlled storage units in Austin have walls made of reinforced concrete, the risk of damaging certain valuables is still possible. Moisture in the storage space can cause the metal to rust and the wood to rot. Humidity could also cause it to tarnish.
Although dehumidifiers can keep this from happening by controlling moisture, most storage providers only allow particular valuables in their units.
Natural disasters
Losses from natural disasters such as extreme weather, earthquakes, flood and wildfires can be unpredictable. If the storage facilities near you doesn't carry insurance that would cover the damage should any of these disasters occur, then they're most likely to deny your request to store valuables in their units.
Insurance coverage
Storage locations carry their own insurance, but most policies exclude particular items, such as jewelry and other valuables. In addition, if you have renter's insurance, the coverage is limited to only 10%. So, if you have a $30,000 personal property limit, the policy will only cover $3,000 worth of items. That won't be enough to cover your items' value in the end.
What you can do to store valuables
If you're like most people and have some valuable items that you need to store, the first step is to find a facility that accepts valuables such as inside a safety deposit box in a bank. Research online or ask friends and neighbors who have tried these services in Austin, TX.
These facilities should also have features like 24/7 surveillance, gated access, and on-site staff that can help keep your belongings safe. It may cost a little more (in terms of rental fee), but it's worth it to know that your valuables are in good hands.
In addition, you should inspect the facility if it has climate-controlled features, secure container materials, a backup generator, emergency plans, and excellent customer service.
You should also purchase insurance that can cover your stored valuables. Most often, specific items will require an additional coverage plan. Remember, however, that your plan's cost will increase. Do not forget to clarify the extent of coverage if damages from extreme weather and cases of forced entry into the facility may happen.
Storage units are a great way to keep your belongings safe and sound, but only if you take the necessary precautions. By choosing a secure facility in Austin, TX with an affordable insurance plan, you can rest easy knowing that your valuables are protected. And, if you're ever in doubt, remember that it's always better to be safe than sorry.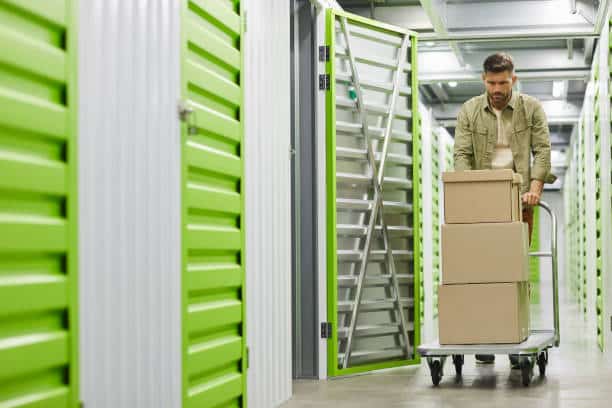 How to store valuables in a storage unit
Should you find a storage provider in Austin, TX that accepts valuables for storing, keep in mind the following pointers:
Step 1: Make an inventory of valuables to store.
Catalog all your valuables as soon as possible. By making an inventory of everything you plan to store first, you won't forget anything, and it will be easier to determine how much insurance you need.
Step 2: Categorize valuables.
Separate your valuables according to categories. Arrange fine jewelry according to type, size or value. Gold must be protected from scratches since it is more delicate than other metals.
Step 3: Keep valuables dry.
Remove dirt, tarnish or grime by polishing metals and antiques. Then, make sure to keep them dry before storing in containers.
Step 4: Ask about insurance.
Many people assume that their belongings are automatically insured while in storage, but this isn't always the case. Your homeowner's or renter's insurance policy may not cover your possessions while they're stored away. So it's important to check with your insurance company to find out exactly what's covered and what's not before singing a contract with the right storage provider.
Step 5: Inspect the storage unit.
Check if the storage area in Austin, TX is climate-controlled. Valuable pieces are at risk of damage from water, bugs, mold and other unseen threats to an outdoor storage unit. If the items you place in a storage space need to be indoors, rent a climate-controlled space.
Step 6: Coordinate with the service provider.
Arrange the storing process and secure your valuables. The service provider will assist you along the way.
Frequently Asked Questions about why your valuables are not allowed in a storage unit
Does homeowner insurance cover valuables in storage units?

It depends on the insurance policy, but most plans do not cover valuables. It is best to contact your insurance company and inquire about their policies.

Are diamonds safe when stored together with other jewelry pieces?

No. Diamonds are hard enough to scratch other jewelry, especially pearls whose surfaces are extremely delicate. It's best to separate diamonds in a different container.

Why are pearls not safe in plastic containers?

Plastic containers possess harmful chemicals that damage pearls' iridescent nacre. Keep your pearls away from everyday items that contain chemicals such as perfumes, hand sanitizers, alcohol and hairspray.

Why is a climate-controlled storage facility necessary?

Items stored in storage units are at risk from moist and mold problems due to unstable temperates or roof seepage. You need to store antiques, wooden furniture, instruments, art, electronics, documents in a climate- and temperature-controlled environment. Stored items will also resist damage from heat, humidity, or any other weather condition in areas with very high temperatures. Most jewelry will remain in good condition in a dry environment so you need to secure it in such condition.

What is the recommended humidity in a storage facility to keep moisture manageable?

Humidity should not exceed 50%.

Where can I find a storage provider near me?

The easiest way to search for a storage space unit that accommodates valuables is to check online for Austin TX companies such as banks. Contact these and inquire about their conditions, availability, fees, and your other storage needs.

How do I narrow my choices of service providers?

Narrow your search down by comparing prices, services, storage unit sizes, and reviews. Try to also obtain referrals or word of mouth from friends or coworkers. They're likely to have hired the right storage unit for their needs. List them down on a priority and start calling one by one. Finally, the provider in Austin, TX must be licensed, so you know they're following all the safety rules and regulations tied to self storage facilities and warehouse businesses.

What if I have other requests to the storage unit provider?

A good self storage unit in Austin, TX will also take the time to listen and work with customers to find a solution that best suits their needs. During your call, tell them about the specific type you need and enumerate your other requirements as well such as more space or larger unit size, a walk-in closet, and other restrictions.

Most of the time, art collectors don't just store their artwork in these facilities. They also request services such as commercial storage, vehicle storage, mini-storage, or a self-storage unit with more space for a reasonable rental fee. Some also accommodate other restrictions to ensure that new customers' demands are met.
—
Enjoy a streamlined relocation with expert moving teams no matter where you live with Heavenly Moving and Storage. Book your move knowing you have the full support of the only moving company in Austin on ABJ's 2021 Best Places to Work and Best of the Best Moving Company Finalist. Get your free quote today or call us at 512-340-0551.